Hotel
The history of The Imperium Hotel dates back to 1990 when Jerzy Folwarski, the founder and the owner of FOL-TOUR Ltd. established a fast growing company providing transportation and travel services. Their quality quickly attracted a number of regular customers. The need for hotel facilities followed the success and thus The Imperium Hotel gave a warm welcome to its first guest in August 1999.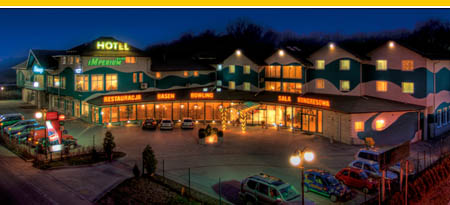 The range of services and facilities provided by our hotel has been growing in time. In November 2001 our restaurant was opened (virtual tour), drink bar (virtual tour) and conference suites (virtual tour) followed soon. To improve the standard, the company's coach garages were transformed into a sports hall in December 2001, where you can play tennis, volleyball or football on its quality artificial grass floors (virtual tour).
Thanks to the investments and high standard of services, The Imperium Hotel was awarded the three-star category in 2002.
Since 2003 our guests have been able to enjoy another facility, namely a 10 by 5 m indoor swimming-pool with adjacent jacuzzi and solarium (virtual tour). The extension of sports facilities had continued until June 2005 when we opened a 30 by 60 m floodlit grass pitch with a spectator gallery. The nearby gazebo with a barbecue facility that seats 80 is yet another advantage.
The Imperium Hotel owes its present looks and multi-functionality to the extension works carried out until November 2006. The investment provided a conference hall seating 299, a bowling alley, a new reception room and 27 new rooms which gives a total of 130 beds in 53 fully equipped en-suite rooms with satellite TV, Internet access, a telephone as well as a mini bar.
From the very beginning of your stay you are taken care of by our receptionists (tel. 100) who will do their best to meet all and any of your requests.