Weddings
The Imperium Hotel is a perfect venue for wedding receptions for up to 120 guests.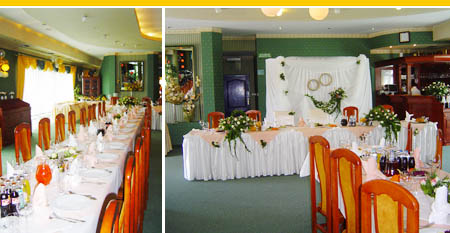 Sample menu serving 70
PLN 160.00 per person
balloon decorations and fresh flowers included
Champagne on arrival
Three-course meal:
starter: Stuffed salmon rolls
first course: Chicken broth with noodles and liver dumplings
second course: meat roll (pork and beef), Swiss steak, chicken drumstick with mushroom stuffing or turkey roll with mushroom, roast duck with apples, Silesian white dumplings, boiled potatoes with fresh dill dressing, mixed salad, boiled vegetables, red and white cabbage Polish style.
Desserts:
fresh fruit (bananas, grapes, tangerines, oranges. apples)
selection of cakes and cookies
bowl of ice-cream with whipped cream
Wedding cake not provided.
Evening menu:
Cold buffet:
platter of cured cuts (canned ham, salami, smoked ham old style, smoked pork blade loaf, kabanos pork sausage) ham rolls with horseradish stuffing.
platter of cold roast meats
cheese platter (5 kinds of cheese)
chicken meat jellies
pickles (pickled red pepper, mushrooms, shallots , baby corns, gherkins, olives)
glazed pike-perch or turkey in malaga wine
chicken salad
sweet corn & Chinese cabbage salad
vegetable salad
saucepan of herrings (herring balls, roll mops, herring fillets in salsa, cheese and herring snacks)
platter of smoked fish (eel, trout, salmon)
bread & butter
Hot dishes:
Blazing ham with side dishes (roast potatoes, stewed cabbage)
Beef Strogonov with bread or Hungarian goulash with bread
borscht (beetroot soup) with croquette
The restaurant is air-conditioned.
A night in de-luxe room or royal apartment with en-suite jacuzzi bath for the newly-weds included
25% discount on accommodation for other guests
Optional services:
limousine, vintage car or horse-drawn carriage
photographer
cameraman
band
hairdresser